Our classes take place at the Longchamp swimming pool, Square de Fré 1 in 1180 Uccle.
We welcome swimmers from 4 years old to adult.
Before being able to join our classes, all swimmers (even beginners) are tested in order to be evaluated and assigned to the right group according to their level.
Our groups are not age specific.
Our different levels: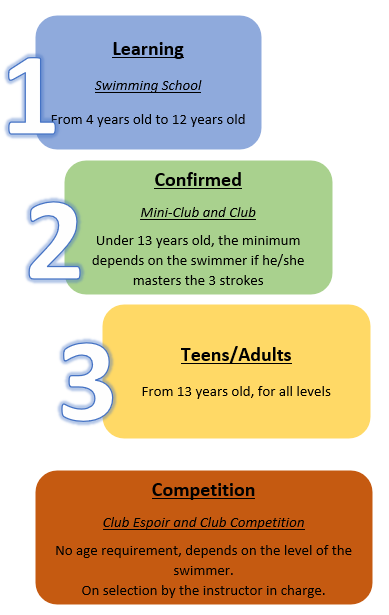 If you are interested in one of our formulas, apply for registration!
Via MyISB for the swimming school (learning)
OR
Via MyLSC for the club (confirmed swimmers) and teens/adults (all levels from 13 years old)
ATTENTION! By registering on MyISB and/or MyLSC, you are on a waiting list. This list is consulted at the time of registration in January and September. We contact you to come and take a test according to the places available and according to the date of the registration request
If you are not invited to come and take a test, then we suggest that you postpone your request for the next period.